Mxus XF40C 30H 1500W (8x8) Rear Cassette 36/48V electric motor for bicycle
Gearless motor
Rated power: 1200W at 48V
Supply voltage: 24-48V
Maximum current: up to 35A
Maximum continuous power: up to 1500W
Save by buying more
Regular price:
929,68 €
(Cheaper in the set by 9%)
Lowest price in 30 days before discount:
845,20 €
See the set
Mxus XF40C 30H 1500W Electric Motor (8x8) Rear Cassette
Ideal for slightly hilly terrain and gravel riding.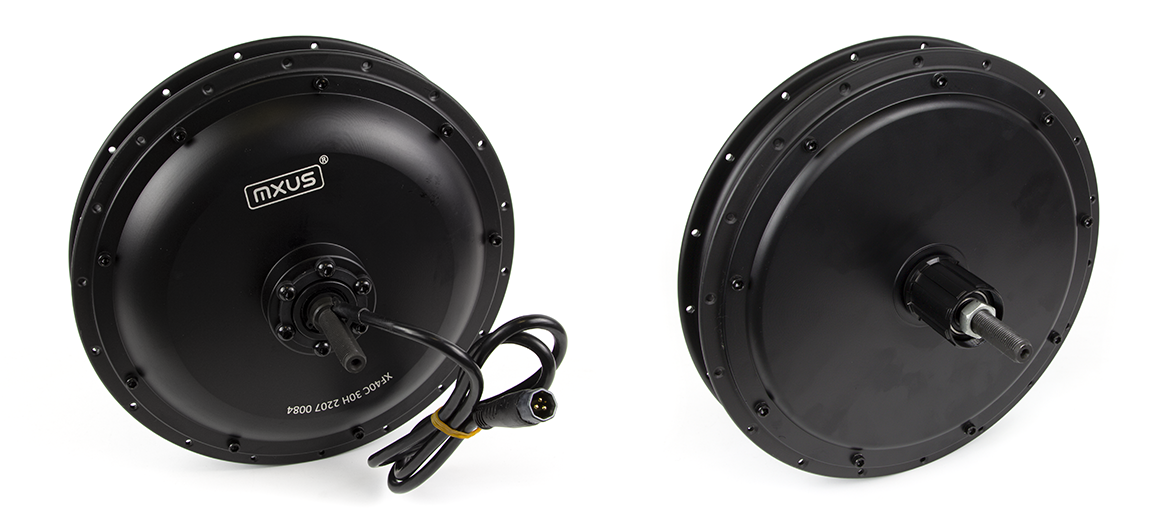 Mxus 30H 1500W motor
Rated power: 1200W at 48V
Maximum continuous power: 1500W
Supply voltage: 24-48V
Speed
Speed: ~8.25RPM/V, about 0.85km/h for every 1V of power supply for a wheel of 26"
KT Sinus
We recommend SINUS controllers so that the engine will heat up the least at the highest output
What you should know before you buy?
Recommended engine is for structures built for quiet tourist driving. If you are going to build a bike that you intend to ride off the beaten gravel or asphalt trails, or you are interested in a sporty riding experience - then choose a Mxusa 3K Turbo, will perform SIGNIFICANTLY better (it will not get excessively hot).
It has best price ratio - capabilities and offers the best chance of expanding the drive in the future.
The best controller should have 30A at 48V (Highly recommended drivers - SINUS) so that the engine will heat up the least at the highest output.
The 8x8 version of the engine is a wind-up that gives extra power at the expense of top speed. If you are not interested in high top speed, but you want a bike that goes exceptionally well on all kinds of asphalt or gravel hills - consider buying this engine
If you are going to build a sports bike with a power output higher than 1500W (The controller will have more like 35A - better to choose Mxusa 3K Turbo).
MXUS 30H ELECTRIC MOTOR
Engine winding - 8x8 (8T)
What speed will your engine reach? We encourage you to take a look at the speed calculator

HERMETIC CONNECTOR
The motor has a cable terminated with a waterproof connector.
Thanks to the hermetic plug, we can easily connect our motor to the controller (with higo connector), without the need for soldering.
Q&A:
8x8 - Engine with reduced top speed but increased efficiency. It has high torque, provides the most efficient driving with the lowest energy consumption. Suitable for those for whom top speed is not important (or even not wanted), but who see strength (torque) as the main asset of their design. Best found in structures built with strength, efficiency and range in mind.
10x6 - Intermediate motor, has higher top speed at the expense of lower to torque (force). Provides a faster ride for those who appreciate high speed. It is weaker, provides a few % less range, will perform worse under loaded mountain driving. This model is of particular interest in trekking, gravel, expedition, road, cross and other inherently flat designs.
12x5 - The engine with the highest top speed being also the weakest of the 30H models. This is the drive most often used for bicycles with 20/24" wheels. The use of such a motor means that fairly small wheels can accelerate the structure (thanks to the high speed of the motor) to reasonable top speeds. This model of engine is usually not used in 26-28" wheels unless you are consciously building a structure that is only meant to accelerate to particularly high top speeds in ideal conditions on a flat road.
If you have plans to build a very powerful bicycle and anticipate using the above motor at maximum wattage continuously or plan to use it at wattages exceeding the above parameters (current, voltage, continuous and maximum wattage) then the motor temperature should be monitored to prevent overheating.
Each engine can be defined by 2 parameters. Speed and torque. Both of these parameters are reflected in these mysterious 2 digits. They denote the description of the internal structure of the engine. The first digit is the diameter of the winding wire. It directly affects the speed, that is, how many revolutions per minute the motor will accelerate to for every 1V of power supply. The second number is the number of windings, it tells you how much torque the engine has, that is, how much power it has when accelerating or going uphill.
Halle + NTC10k temperature sensor
standard groove for 7-10s cassette
~8.25RPM/V, około 0.85km/h na każdy 1V zasilania dla koła 26"
135mm (fits classic bikes)
Gwarancja 2 lata - Silniki
Gwarancja 2 lata - Silniki