PAS sensor (ISIS, Hollowtech) version D2 waterproof HIGO connector
Sensor with hermetic HIGO plug
PAS sensor (ISIS, Hollowtech, Octalink) D2
PAS SENSOR (ISIS, HOLLOWTECH)
Enables activation of the pedal assist system.
Sensor with hermetic HIGO plug.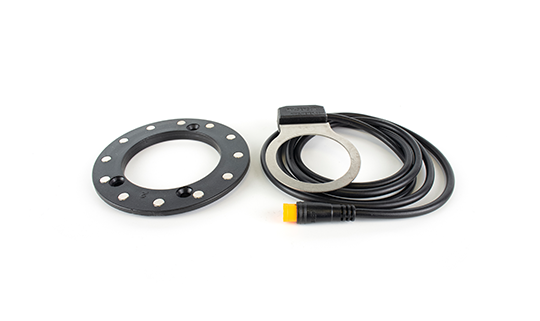 How to mount a plate with magnets on the top of the crank?
It all depends on the model of the crank you have.
1. If the holes match - tighten the rotor with the magnets onto the crank with the bolts.
2. If your smallest crank sprocket has different holes than the plate with magnets, follow one of the tips depending on the crank model you have:
- stick the plate to the top of the crank with glue (hot or 2-component), remember to degrease the surface
- drill new holes on the disc with magnets according to your crank
- fix the plate with the strength of magnets only (flat tops of gears)
Pinout description when Higo plug is cut off:
1: Red [5V], Blue [signal]. Yellow [GND]
2: Red [5V], Blue [signal], Black [GND]
3: Brown [5V], Yellow [signal], Black [GND]
4: Red [5V], White [signal], Black [GND]

Number of magnets in the disc
ISIS, Hollowtech, Octalink