KT-BLE module bluetooth for KT controllers
KT-BLE module bluetooth for KT controllers
APPLICATION
BT module that allows you to control KT controllers from the Android and iOS application.
App
Attention:
The BT sensor fits only to the KT controllers factory prepared for its operation - having the appropriate additional 5-pin connector derived from the controller.
Intended for installations: 48V (the module cannot work with controllers intended for 24V, 36V and 60V installations)
See necessarily - E-bike Academy
See the video in which TAS modifies the KT controller by adding support for control via the application.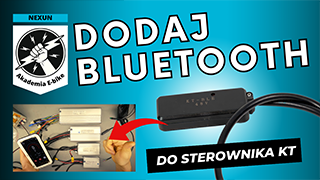 Installation of the bluetooth module in the KT controller | E-bike Academy