City Kit 250-1000W XP03
Electric bike conversion kit 350W with rear wheel drive. The set is equipped with higo waterproof connectors which allows for quick assembly of the set.
City Kit 350W XP03 Battery 36-48V
The kit will turn your bike into a 350W electric bike. Perfect for road cycling.
Converting a bicycle into an e-bike has never been so easy! Thanks to the HIGO connector solution, bike conversion is quick, easy and pleasant.
An electric bike is the cheapest form of transport. How much will it cost you to ride 100 kilometers on an electric bike? Taking into account the average wear of elements, battery durability and electricity prices, the rate for such a distance will be ... about 0,2EUR.
Why our kits?
Feedback
It all began with the Nexun. We have tens of thousands of customers, users of our sets. We supply hundreds of workshops with electric bicycles in the country and abroad. We sell products that have been trusted by a large number of users. Wherever you will find any mention of us - these are positive opinions.
Experience
10 years of experience in the industry make us experts with proficiency in the field of electric vehicles. We will provide professional advice before buying, advise or dispel technical doubts. We will help with any problem and we will not leave anyone in need.
Reliability
We know that failure-free operation is crucial, which is why we do not assemble our kits based on small, overloaded components. We do not artificially raise the power of motors, adjusting their parameters to the limits of their durability. We do not have you with numbers, watts and other wonders, so we do not offer small-size controllers that are usually overclocked in other sets "on the Internet". We always select the elements of the set so that they have the appropriate reserve. We always design and build packages and batteries based on knowledge and experience. We do not overload the power supply - our batteries are built for many years of operation in mind.
The best sets
Our kits are the cheapest and the richest in important and essential parts. We do not add unnecessary things to our sets, we do not inflate the price and we do not sell unnecessary elements by force. We do not have hidden costs.
Spare parts
Check our offer. We are the only company to provide such a wide range of spare parts for our products. With us, your set will work much longer, because you have constant access to spare parts as well as advice and assistance in repairs. We conduct teaching through channels on YT, and Blog. You can also find us on FB and forums with electric vehicles.
POWER ADJUSTMENT
The city set has 5 gears with a display-adjustable maximum power ranging from 250W in 1st gear and a speed of 25km/h to about 1000W in 5th gear and a speed of about 35km/h.
IDEAL FOR THE CITY
It works great as a form of transportation in the city - for commuting to work or school, or for running errands.
FAILURE-FREE CONTROLLER
Our set has an external controller, instead of the typical controller in the battery case rail. External controllers are characterized by better operating parameters, lower temperature, better load capacity, are less failure-prone and more resistant to moisture.
What is included in the ready set?
ELECTRIC MOTOR MXUS XF15
Rear drive motor included
Motor cable: 5.6mm diameter
You do not know what speed he will reach? We encourage you to familiarize yourself with the speed calculator

RIM
The set includes a reinforced rim for a V-brake and Disc. Available in sizes: 24", 26 ", 27.5" and 28/29"
Reinforced, riveted, chambered aluminum rim, black. Intended for use in electric bikes. It works well in city vehicles as well as for less demanding off-road driving.
SPOKES
2.5mm black spokes with silver nipples.
LACING
After purchase, you will receive a laced and centered wheel ready to be mounted in the bicycle frame.
CONTROLLER
Sinewave controller compared to classic squarewave controllers allows for a smoother ride, reduces energy consumption and makes the motor quieter.
The controller comes with a collective cables with HIGO connectors (Connection of a throttle, display, brake sensor).
The controller has the ability to connect a front light, a rear light and a Bluetooth module from our store's offer.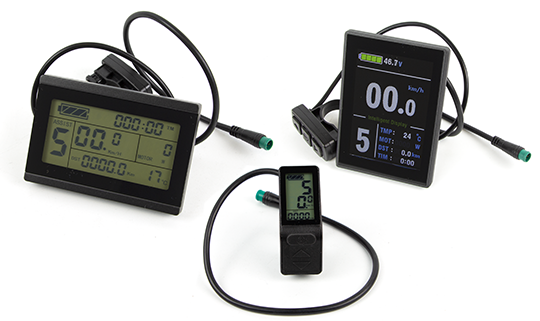 DISPLAY
The set includes KT-LCD3, KT-LCD4 or KT-LCD8s
Display with button panel for KT series programmable controllers.
THROTTLES
Choice of thumb, full or half lever.
PAS SENSOR
Enables activation of the pedal assist system.
A choice of PAS sensor (square) or ISIS, Hollowtech, Octalink
Mounting: PAS square - left, ISIS - right
BRAKE SENSOR
Choice of: A simple and economical brake activation sensor for mounting on each handle or brake handles with contactors.
The set includes 2 pcs of brake levers or 2 pcs of magnetic brake sensors and magnets.
CASE FOR CONTROLLER
Thanks to the case, we can easily mount the controller in the bicycle frame.
NEOPRENE BAND
The neoprene frame cover allows you to effectively protect it from scratches caused by the chain slapping. Ideal for protecting the cable coming from the motor.
BATTERY 48V 14,5Ah
You can choose between a 36V or 48V battery
36V 18,2Ah 656Wh
48V 12,75Ah 612Wh
Output of the controller and HIGO connectors:
OUTPUT OF THE CONTROLLER SIGNALS
Motor
Battery (XT60 male)
PAS sensor
Wiring harness for KT controller
Rear light
Bluetooth module
OUTPUT OF HIGO CONNECTORS
Display (green)
Throttle (yellow)
Brake sensor (red x2)
Front light (red)
Connecting bluetooth module
135mm (fits classic bikes)
bicycle, power assistance, moped
250W-1000WMore
The city set has 5 gears with a display-adjustable maximum power ranging from 250W in 1st gear and a speed of 25km/h to about 1000W in 5th gear and a speed of about 35km/h.