Bicycle spokes length from 113 to 131mm thickness 3,2mm + nipples (set of 36 pcs) BLACK
Electric bike spokes. The dimensions of the spokes 113mm, 125mm and 131mm.
Bicycle spokes, thickness 3,2mm + nipples (set of 36) BLACK
SPOKES 3,2mm THICK
Special bold spokes + nipples designed for electric bikes. They perfectly withstand the loads of the most powerful motors.
Spokes designed for Mxus 3K Turbo and QS motor and MOTO rims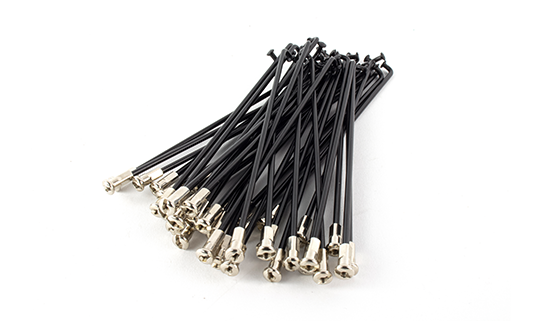 How to choose spokes to rim and motor?
Spoke length calculator
Tip:
Remember that even the best laced wheel requires check the spokes after driving a certain distance. Usually, the first tightening of the spokes is carried out after the first 50-200 km depending on the driving style. If the spokes are starting to rattle, it is a sign that they are on the wheel and should be finally correct.
To get a finished wheel, add the motor, rim, spokes and lacing service to your cart.