Spoke to size 70-163mm thickness 2.30mm BLACK (1 piece)
Size: 70-163mm - 2.3mm (black) Specifications: Purpose: electric bicycles Quantity: 1pc (spokes and nipples) Color: black
SHAPE TO DIMENSION Thickness 2.30mm BLACK (1 piece)
PRINTS OF 2.3mm THICKNESS
Special thickened spokes + nipples designed for electric bicycles. Perfectly withstand the loads of the most powerful engines as well.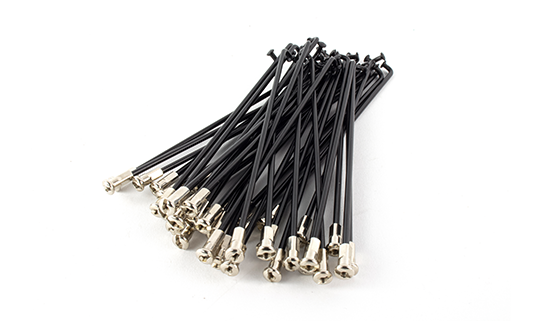 Spokes can be cut to length from 70 to 163mm.
Price is for 1 spoke with nipple
We cut the spokes to order.
Please add the appropriate number of spokes to your cart and in the field "Additional notes" enter the length of the ordered spoke.
How to choose spokes for your engine and rim?
Spoke length calculator
Remember:
Although the wheel will come ready - after riding no more than 200km you MUST tighten the spokes several times at your local bicycle service center. Without this action, the spokes will quickly loosen and begin to break.
Cracking of spokes is not caused by their low strength but by negligence in use (wheels with motors are serviceable, they should be taken care of).
To get a finished wheel, add the motor, rim, spokes and braiding service to your cart.