Li-Ion 60V, 25.65Ah, 16s9p Samsung 29E S7 Honeycomb T pack
Rated voltage: 60V
Rated capacity: 25.65Ah (amount of energy 1477Wh)
Cell type: Samsung 29E S7
Li-Ion 60V, 25.6Ah, 16s9p Samsung 29E package
Lithium ion pack. It is the main element for building a battery. After adding the matching BMS, it is ready to work.
PACKAGE SCHEME
Before you buy, download the diagram and print.
Print on a scale of 1:1, after printing check that both marked dimensions of 50mm are true, otherwise the baskets may have printed on a different scale and the dimensions will not match.
Package voltage and capacity
Rated voltage: 60V
Rated capacity: 25.65Ah
Expected range: 120-130km
- 25km/h
- no wind, on level asphalt
- without power steering, driving "on the handle"
Samsung INR18650-29E 2850mAh Series 7
Pack welded from Samsung INR18650-29E 2850mAh Series 7 cells.
The offer includes:
Cells
Honeycomb baskets
Tape 100% nickel
Link alignment
Insulators
Assembly and welding of the package
Instructions:
1. The package requires the connection of a suitable BMS. Match the package with the right BMSs.
2. Always charge with a charger designed for this type of battery. Match the package with the right electric bike charger.
3. Do not overload the battery beyond the maximum current capacity.
Outputs:
-B - MINUS of the package
BAT+ - PLUS package
BC0-BC13 - more BMS balancing wires
Connection order:
1. Combine the -B from the package with the -B field of the BMS
2. Connect the balancing wires of the BMS to the BC0, BC1, BC2 leads one by one....
3. Connect the +BAT from the pack to the receiver
In specific cases (depending on the BMS used) it may be required to temporarily connect the charger to activate the BMS.
Protect the battery by electrically insulating it (e.g., with reinforced insulation tape, prepreg, epoxy glass, etc.). Add to cart Battery Building Kit.
Always fix the battery in the terminal device permanently, in a way that prevents it from loosening (mounting foam is recommended)
Wiring diagram if you have a BMS that supports a compatible number of sections with the package and a BMS that supports more sections than the package has.
Technical data:
| PARAMETER | UNIT |
| --- | --- |
| Voltage Rating: | 60V |
| Rated capacity: | 25.65Ah |
| Type of cells: | Samsung INR18650-29E 2850mAh S7 |
| Type of baskets: | Honeycomb |
| Cell configuration: | 16s9p |
| Maximum discharge current: | 45A |
| Recommended charging current: | Up to 3 to 4A |
| Charger: | for LiIon, 16s |
| Dimensions: | shown in the picture |
| Weight | 7kg |
| Welds: | on a professional welding machine, tape pure nickel 100% |
Universal wiring diagrams: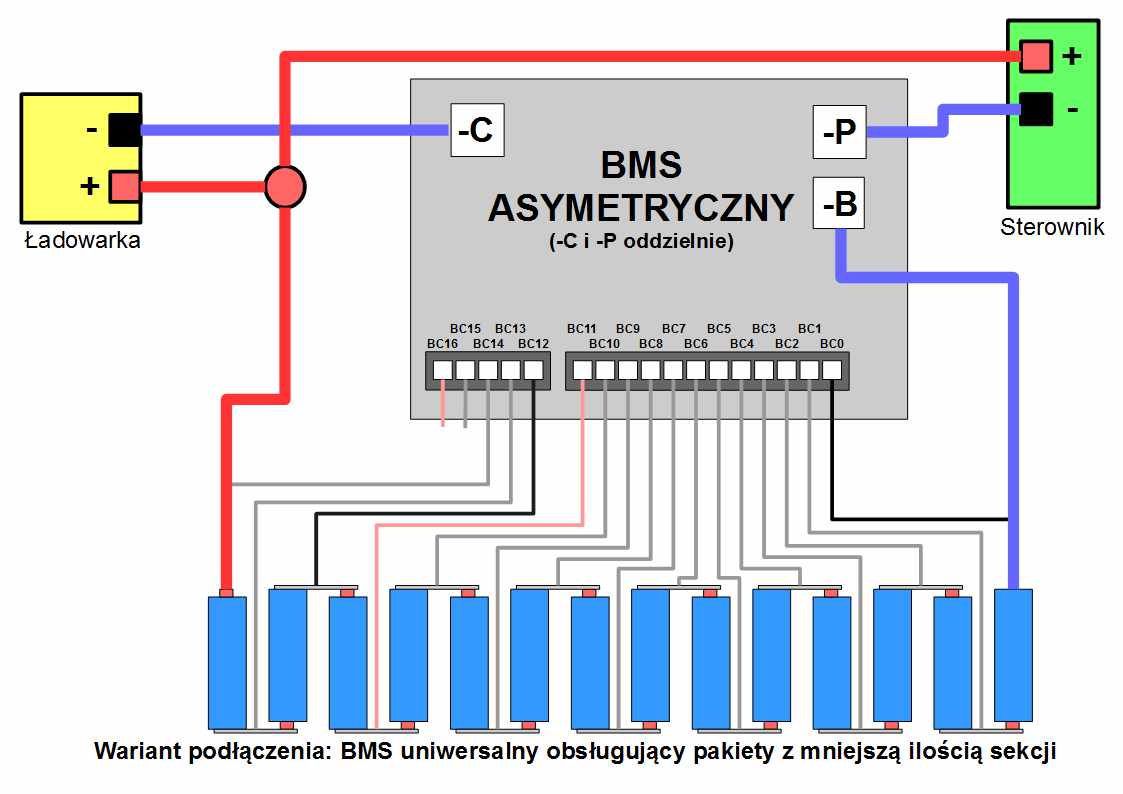 Notes:
The real capacity of the pack (capacity available) is always less than the rated capacity of the pack (rated capacity of the cells that comprise it). It is assumed that the finished battery based on the pack will have about 10% less real capacity than the theoretical rated capacity. This is due to a number of factors such as, a decrease in cell capacity under load, or leaving unused capacity by the BMS (discharging to the minimum cell voltage to about 2.7V) designed to extend the life of the battery pack.
Gwarancja 2 lata - Ogniw i pakiety
Gwarancja 2 lata - Ogniw i pakiety