Conversion kit electric motor for bike XP04 750W/1350W front + KT25A 48V controller + HIGO harness
Conversion kit motor XP04 750W/1350W front + KT25A 48V controller + HIGO harness
This conversion kit is ideal for trekking bikes.
Electric motor XP04
Nominal power: 750W/1350W
Speed
~40 km/h 350RPM/48V
KT Sinus
Thanks to the powerful 25A controller, the motor has great strength and high efficiency.
MOTOR XP04 750W/1350W
You do not know what speed he will reach? We encourage you to familiarize yourself with the speed calculator
CONTROLLER
Controller with the SINUS wave. Compared to classic block controllers, it allows for a smoother ride, reduces energy consumption and makes the motor quieter.
The controller comes with a signal splitter (Connection of a handle, display, brake sensor).
SIGNAL SPLITTER FROM THE KT CONTROLLER
Signal splitter from the controller with a total length of 119 cm.
The cable ends with Higo waterproof connectors.
Output of the controller and distributor signals:
OUTPUT OF THE CONTROLLER SIGNALS
Motor
Battery (XT60 male)
PAS sensor
Harness for collective cables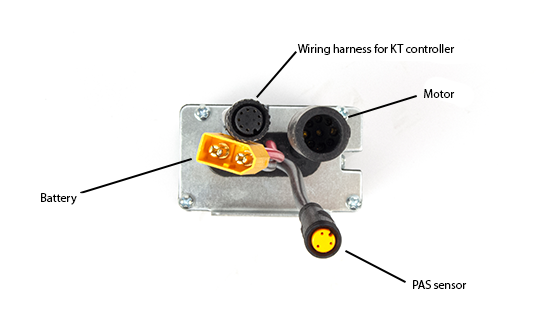 OUTPUT OF HIGO CONNECTORS
Display (green)
Throttle (yellow)
Brake sensor (red x2)
Additional Hall speed sensor
Maximum continuous current
Gwarancja 2 lata - Silniki
Gwarancja 2 lata - Silniki