Charger 13s - 2A 54.6V 109.2W LiPo / LiIon DC 2.1/5.5
Output voltage: 54.6V (13s LiPo / LiIon), Maximum output current: 2A, Maximum power: 109.2W (max)
Opinions about Charger 13s - 2A 54.6V 109.2W LiPo / LiIon DC 2.1/5.5
5.00
Number of opinions issued: 1
Click the rating to filter reviews
Charger 13s - 2A 54.6V 109.2W LiPo / LiIon DC 2.1/5.5
Fast automatic charger for LiIon and LiPoly batteries (lithium-ion and lithium polymer).
In combination with the BMS, it is the best and most convenient way to charge lithium batteries. Completely maintenance-free, convenient, low weight and uncomplicated operation make this solution recommended as final.
ELECTRIC BIKE CHARGER
No configuration required, it works straight away. After the battery is charged, the charger switches to standby.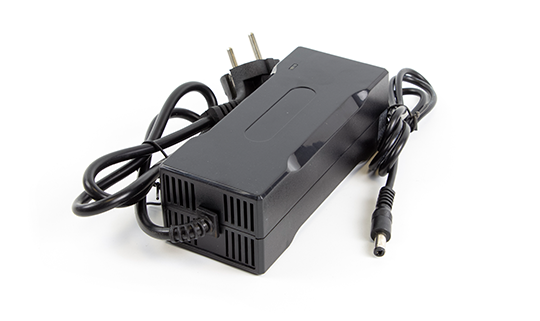 Notes and Tips:
Correctly selected power of the charger is important for the safety, life and failure-free operation of your battery. It is assumed that a properly selected charger should charge a fully discharged battery in the optimal time for about 6-9 hours, i.e. by connecting the charger at 9:00 p.m., it will be charged by 6:00 a.m. By choosing the wrong charger power (too strong charger in relation to the battery capacity), you can shorten the life of your battery, cause its failure during use and reduce the effectiveness of BMS balancing, which in general will not be worth it if the battery is charged at 2 o'clock: 00 at night
The charger cannot charge the batteries by itself. For proper operation, it requires a BMS or external balancers to control and equalize the voltages of individual cells. Charger and BMS voltage must match.
Connecting the charger
Always connect the charger in the following order:
1. 230V cable to the socket.
2. Power cord for charging socket.
Reverse connection will damage the charger which is not covered by the warranty.