Battery Pack Li-Ion 36V, 20,3Ah, 10s7p 29E
Nominal voltage: 36V Nominal capacity: 20.3 Ah Cell type: Samsung INR18650-29E Type of baskets: Honeycomb Cell configuration: 10s7p
Battery Pack Li-Ion 36V, 20,3Ah, 10s7p SAMSUNG 29E
Lithium-ion package. It is the main element for building a battery. After soldering the correct BMS, it is ready to work.
Link to package schema
Voltage and capacity rated
Rated voltage: 36V
Rated capacity: 20,3 Ah
Expected range: 60-70 km
- 25km / h - no wind, on smooth asphalt - without power steering, driving "on the throttle"
Samsung INR18650-29E 2900mAh Seria 6
Battery Pack Li-Ion Samsung INR18650-29E 2900mAh Seria 6
The offer includes:
The cells
Honeycomb bracket
100% nickel tape
Cell alignment
Insulators
Assembly and welding of the package

Technical data:
Rated voltage: 36V
Rated capacity: 20.3 Ah
Cell type: Samsung INR18650-29E
Type of baskets: Honeycomb
Cell configuration: 10s7p
Maximum discharge current: 30A
Maximum charging current: 5A
Charger: for LiIon, 10s, 24V
Dimensions: 17,5x15cm
Weight: 3.5 kg
Welding: on a professional welding machine, tape pure nickel 100%
Warranty: 6 months
Instruction:
1. The package requires connection of an appropriate BMS.
2. Always charge with a charger intended for this type of battery.
3. Do not overload the battery beyond the maximum current capacity.
Entries:
-B - packet MINUS
BAT + - PLUS package
BC0-BC13 - another BMS balancing cables
The order of connecting the BMS:
1. Combine -B from packet with field -B BMS
2. Connect in turn the balancing wires of the BMS with the terminals BC0, BC1, BC2 ....
3. Connect + BAT from the package to the receiver
In specific cases (depending on the BMS used), it may be required to temporarily connect the charger to activate the BMS.
Secure the battery by insulating it electrically (e.g. with reinforced insulating tape, pressboard, epoxy glass, etc.). Add to cart Battery building kit.
Always fix the battery in the end device permanently in a way that prevents it from loosening (mounting foam is recommended).
Universal connection diagrams: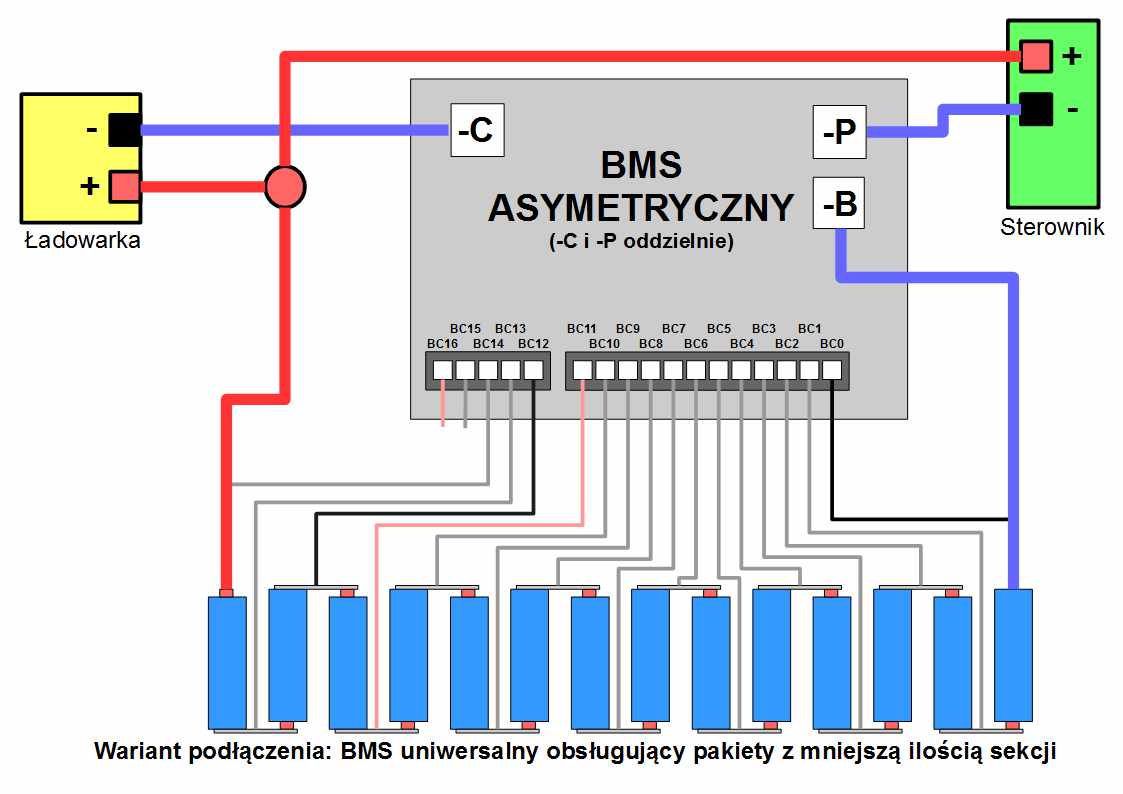 Note:
The real capacity of a package (available capacity) is always lower than the nominal capacity of a package (rated capacity of its cells). It is assumed that a ready battery based on a package will have about 10% less real capacity than the theoretical rated capacity. It is caused by many factors, such as the decrease in the capacity of the cells under load, or the leaving unused capacity by the BMS (discharge to the minimum cell voltage to about 2.7V) in order to extend the life of the battery.
Example Battery Pack Li-Ion